Head of Fundraising – The Polar Academy
Closing Date
13th September 2021
Location
Home-based with remit for working across the UK
Interviews Scheduled
w/c 27th September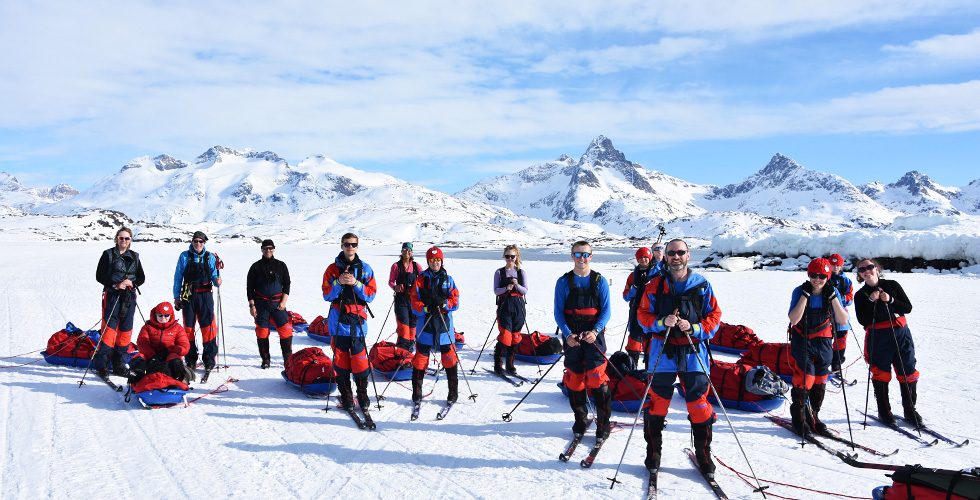 The Polar Academy, was founded by Craig Mathieson, Explorer In Residence at the Royal Scottish Geographical Society, in 2014. The idea behind the Polar Academy came from his experience of meeting hundreds of young people on his exploration speaking events where he realised that confidence and self esteem issues were all too common. Craig is passionate about inspiring the next generation of leaders and explorers and using his own experience of 'inspiration through exploration' to do so.
The organisation was established with one clear aim: to unlock the vast potential within young adults and turn them into positive role models for their community and families.  The Polar Academy is now internationally recognised as an organisation which really delivers true life changing opportunities to the children and families who need it the most. Working with the 'invisible' children – the victims of bullying, abuse or children crushed by the lack of self-esteem and confidence – the Polar Academy helps build them into leaders and role models, to truly inspire others so that they too can reach their full potential.
The Polar Academy identifies 14-17 year old secondary school children, and motivates them  positively to achieve their absolute potential and what they may have perceived as impossible. They are given a unique opportunity to redefine their physical and mental limits. The training is unapologetically demanding with the goals set often being beyond what most can dream of – our children always succeed.
Fundraising at the Polar Academy
Since the inception of the Academy, the small yet highly successful team have created and delivered a number of successful programmes and expeditions relying on the support of Patrons, corporate supporters and trusts and foundations. In the last 10 years, Craig and his senior team have raised all of the money themselves to ensure thousands of children and young people in Scotland have this unique and life changing opportunity.
However, 2021 sees a new and ambitious phase in the Polar Academy's history. To enable this they are looking to appoint their first ever Head of Fundraising. This important role will be responsible for shaping and leading the strategic growth of the organisation's income generation and helping to realise the organisation's ambitious fundraising plans. The Head of Fundraising will play a vital role in expanding the Academy's activity in line with the organisation's ambitious international growth plan. This new role will play a pivotal role in pushing the physical boundaries of the organisation across the UK and Norway.
The Successful Candidate
The successful candidate will be a proven leader and excellent hands on fundraiser with a solid track record across a number of disciplines. Their skills will be a strong blend of business development, pipeline management, ability to understand and synthesise complex information,  strong and values led communication skills, determination, integrity and getting it done attitude. They will need to thrive in all settings  including working closely with new Patrons on an individual basis, meeting with and reporting to funders, communicating the  work and impact of the Polar Academy to new audiences. Most importantly, working with the young explorers, their families and schools to gain a deep understanding of their experience and impact. This role is an opportunity for a serious, committed, talented, passionate and determined individual to join a thriving organisation at a crucial juncture.
How to apply
Applications should be made via email to liz@dixonwalter.co.uk by 13th September and must include on separate documents:
a letter of application setting out your interest in the role and details of how you match the criteria (no more than two pages of A4)
a comprehensive Curriculum Vitae (CV)
details of three referees, one from your current employer (referees will not be contacted without your permission) –

the final appointment will be made subject to satisfactory references.

a completed Personal Details form (available above)
Scheduled interview dates: w/c 27th September
Notes
In making an application for this role we ask you also to view our Privacy Notice which outlines our compliance to General Data Protection Regulations and the use and storage of your data. Personal Data is held and processed on the lawful basis that such action is in the Legitimate Interest of the company in pursuing the purposes described and has been considered through the use of a Legitimate Interest Assessment utilising the Balance Test to not be outweighed by risks to the rights, freedoms and interests of the Data Subject.
Please note that our client is legally obliged to confirm that the appointee is eligible to work in the UK. As of 1 January 2021, government restrictions will change. For further information visit the Home Office website at http://www.bia.homeoffice.gov.uk/workingintheuk
More information
To find out more about this exceptional opportunity with one of the Scotland's most innovative and ambitious charities, contact:
Share this position.