Movers and Shakers July 2019
Posted 31st July 2019
Another busy month for all at Dixon Walter and across the sector as a whole. Let's take a look!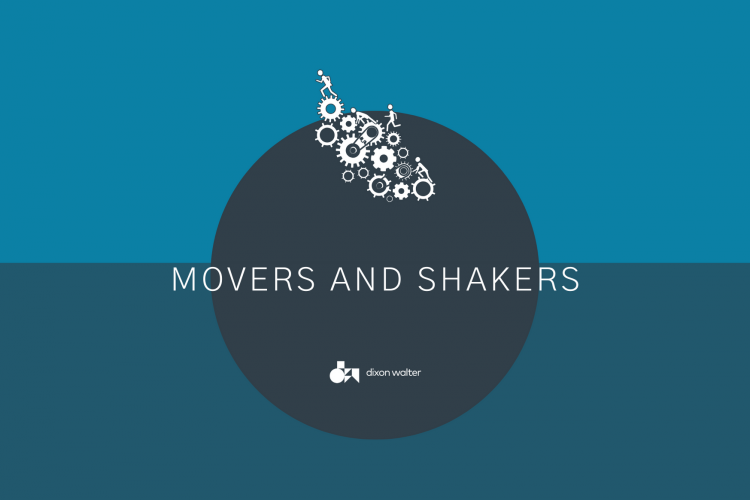 Harworth Group has appointed Jenny Cutler as Interim Finance Director. Cutler has been Harworth's group financial controller since April 2016, after initially joining the company in September 2014 as financial accounting manager. She was previously group financial controller at Palletways Group and, prior to that, was an audit manager at KPMG.
ISG has appointed two new directors (Andrew Wilson and Chris Chappell) to lead the expansion of its specialist science and health projects division.
Apex Airspace has appointed Andrew Powell as finance director and Jonathan Smart as head of new business.
The former chief executive of Blackstone-backed Sage Joe Cook has joined Home Group, replacing the development director who has left to join the for-profit provider.
Platform Housing Group has appointed Elizabeth Froude as its new group chief executive.
Craig McWilliam is to become Grosvenor Group chief executive as part of a series of top-tier personnel changes taking place at the firm over the next 18 months.
Glenhawk, the UK challenger lender, has appointed former Morgan Stanley head of residential mortgage trading Steven Khan has been appointed as chief operating officer.
Hyde has appointed group finance director Peter Denton to be its new chief executive. The appointment follows a recruitment process after current incumbent Elaine Bailey announced in April that she would retire after five years in the job, once a replacement had been found. Mr Denton, who has a background in pan-European real estate investment, joined the 50,000-home housing group in February 2017 from Starwood Capital Group.
Bield has appointed an interim chief executive as it continues the recruitment process for the full-time position. The housing and support services provider has promoted Charlie Dickson to take over the role on temporary basis after the former stepped down following nine years in the role.Mr Dickson joined Bield in 2005 and will make the step up from director of customer services until the search for a permanent successor is concluded.
Wates Construction has continued to strengthen its operations in the North East and Yorkshire with the promotion of Steven Bell to operations director. Bell joined Wates as construction manager in 2015 from Bowmer & Kirkland and became operations manager last year.
Consultant Mott MacDonald has appointed Cathy Travers as managing director of its UK and Europe regional business. Succeeding James Harris who has become group managing director, Travers will be responsible for over 7,500 staff and revenue in excess of £824m.
Transport for London (TfL) has announced Andy Lord as the new managing director of London Underground and TfL Engineering from November 2019.
Oona Goldsworthy, chief executive of United Communities, is leaving to take up the role of chief executive of Brunelcare, a small housing association that provides care homes and support to older people.
Lendlease has appointed a new executive general manager for its construction business in London. Claire Pettett, who has over 11 years of experience within the company, will take on the role from the end of this month.
Keith Anderson, chief executive of Port of Leith Housing Association, has announced his intention to retire after leading the organisation for 11 years. Mr Anderson will continue in his post until May 2020 to ensure a smooth transition period.
Three new executive chief officers have been appointed by the Highland Council. Taking up appointment on August 13 is Liz Denovan, executive chief officer – resources and finance, while Carron McDiarmid, executive chief officer – customer and communities, takes up post in September. Lesley Weber starts on September 23 as executive chief officer – health and social care.
West of Scotland Housing Association (WSHA) has appointed Brian Gannon as chief executive. Currently head of housing & community regeneration at Thenue Housing Association, Brian brings a wealth of experience and knowledge to WSHA from his time working in the housing sector. At Thenue, Brian has overall responsibility for housing management and community regeneration services to 3,000 tenancies in various communities in Glasgow. He has also led Thenue's Digital Transformation agenda. Brian will take up the position of chief executive on September 2.
Bouygues business development director Michael Naylor is understood to be joining McLaren. Naylor has been at Bouygues for more than two years as business development director. Before that he had a similar role at Keepmoat and Higgins. Naylor's move comes as Steve Yates leaves McLaren to join Wates.
Mace Construction Director Mike Armstrong has joined national contractor Torsion Group as its Operations Director and will oversee all operational activities. Armstrong was responsible for the commercial offices business at Mace where he had been a director for nearly four years.
Construction Scotland has expanded its Industry Leadership Group (ILG) by appointing Balfour Beatty Scotland and Ireland managing director, Hector MacAulay.
Terrie Alafat CBE has today announced she will retire as chief executive of the Chartered Institute of Housing (CIH) at the end of November. Current deputy chief executive Gavin Smart will then become CIH's chief executive.
Gordon Williamsburgh Housing Association said goodbye this week to its first and only director, who has been in the job for a remarkable 40 years. Today, Williamsburgh has 1,621 homes and factors a further 560 with housing stock in Renfrew, Johnstone and north Paisley.
Kier Living executive director John Anderson has suddenly left the crisis-hit group as it tries to find a buyer for the housing business.
Homes England deputy chief executive Tom Walker leaves for government role – The deputy chief executive of Homes England, the government's housing delivery body, has left the organisation to take up a new role in government. He has now moved back to Ministry of Housing, Communities and Local Government to become its Acting Director General for Decentralisation and Growth.
That's all for now. Good luck to all those embarking on new challenges! We'll see you next month for another round of Movers & Shakers.
If you would like to chat to our team about an opportunity you may need help with, or perhaps you are seeking your next challenge please contact us on 0191 500 5500 / info@dixonwalter.co.uk.
Posted by John-Paul Warner
Higher Education
Posted
We may still be waiting for some consistent sunshine but things haven't slowed down any in June, with plenty of movement across the Higher Education sector. Take a look at these latest appointments in our summary of the month.
Congratulations and best wishes to all those embarking on new opportunities!
Higher Education
Posted
With exam season now well underway, May has also seen a number of significant appointments across the Higher Education sector.
Take a look at these latest movements in our summary of the month.
Congratulations and best wishes to all those embarking on new opportunities!
Higher Education
Posted
With the upcoming exam period fast approaching, it's a busy time of year throughout the Higher Education sector.
Take a look at who's moving in in our summary of the month's most notable appointments.
Congratulations and best wishes to all those embarking on new opportunities!